Welcome to AI Professional College
Our School, AI Professional College was established in 2014, and offers career development programs that are industry-focused and are designed to meet new market trends for emerging economies. We aim to imbed in students a career focus and a vision for a lasting impact on their lives and the communities (society) in which they operate.
Our teaching staff is drawn from network of reputable business executives in leading firms, who have acquired similar qualifications and are currently leveraging on the field. We are unique in our delivery and do not discriminate on any basis, given the opportunity to transform individuals into becoming proactive business and Tech experts through the various tuition programs.
Thus, we offer career advancement opportunities at all levels and in varied business-related disciplines; entry levels ranging from five credits obtained in not more than two sittings with a minimum of C5 in English Language at the General Certificate Examination (GCE) 'O' Level or West African Senior School Certificate Examination (WASSCE).
Our Community, Our College: Improving Lives, Strengthening Communities Empowering each student to achieve excellence in an environment that cultivates personal relationships among students, faculty, and staff – Being the catalyst for educational attainment, economic growth, and cultural enrichment in partnership with business, industry, community groups, and all levels of education
AI Pro College is a private college.  Our mission is to provide educational opportunities and services for our students and the communities we serve.
AI Pro College seeks to provide the following within the identified period:
Degrees, Diploma and Certificates – Programs leading to the Associate of Arts, Associate of Science, Associate of Applied Science, and ND/HND certificates that meet the needs of the students and communities within our service area.
Career & Technical Education – Credit courses and programs designed to satisfy local and regional employer demands and meet individuals' workforce training needs.
Developmental Education – Compensatory education courses consistent with open-admission policies designed to prepare students effectively for success in college‐level studies.
Continuing Education – Noncredit courses and programs that meet the immediate technical and occupational skills needs of employers and the individual and that fulfill the personal enrichment and cultural needs of the individual and the community.
Professional Education – Professional education with affiliation to major Accounting & Finance Bodies as well as Professional IT bodies.
Student Support – Services and activities that support student success, including academic guidance and counseling services.
Cultural and Intellectual Outreach – Educational activities and events that enhance our community's quality of life.
Why do I need to matriculate?
Matriculation is a formal process of becoming a student or enrolling into AI Professional College. This event marks the moment when all new students (both first-years and transfers) officially become a part of AI Professional College
During this event, our students are formally welcomed to AI Pro Community of scholars by the Principal, the registrar and the Student Union President.
2021/2022 matriculation Ceremony was organized on the 16th of April 2022 on Freetown campus. We were honored to receive stakeholders from the educational sector such as: the representatives of the Parliamentary Oversight Committee for high education, ministry of Higher education, Tertiary Education Committee, NCTVA and other personalities. Students went through the regular tradition to matriculate into AI Pro College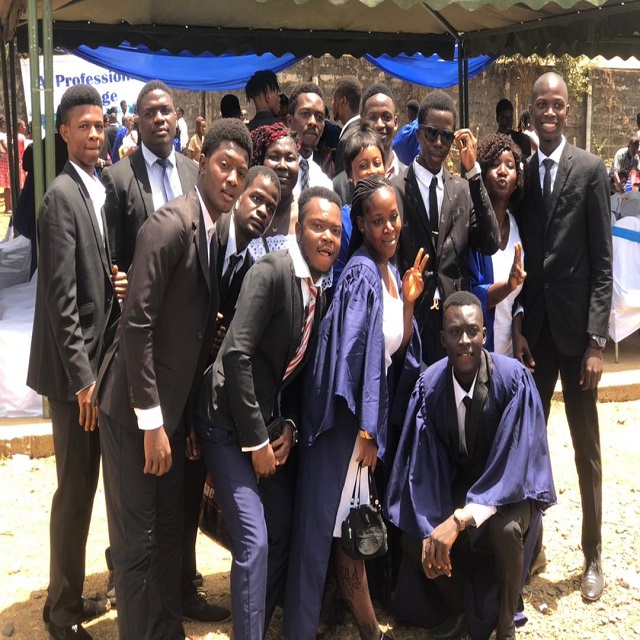 Our full-time training packages are tailored to provide students with a wide range of options to obtaining the desired professional qualification and also an academic qualification with our different partner professional bodies and universities. See various academic qualification levels and professionally oriented training program to match up.
We provide guidance and supervision for students to obtain the appropriate academic qualification, if they so desire, after completing a professional or vocational training course.
AI Professional College offers education of a very high standard with a holistic approach that develops students in multiple respects.